I think these are mostly at Pleiku. Any help with identification would be appreciated.
(Thanks to Al Sproul for some ID's. Thanks also to Tom Hegre for volunteering to touch up some of the images)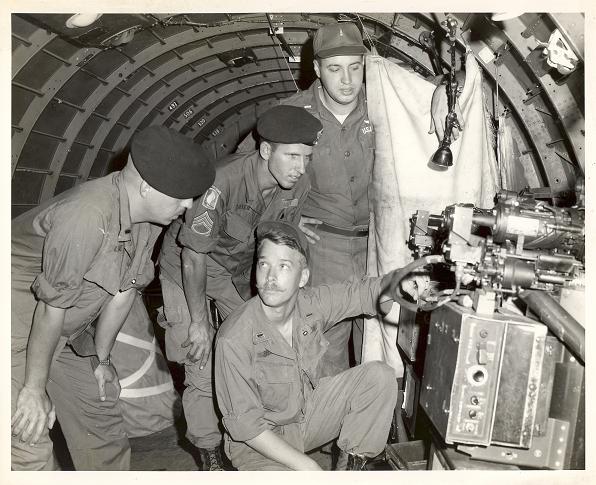 My father had this photo on the wall in his office for years. Click here or on the photo for more.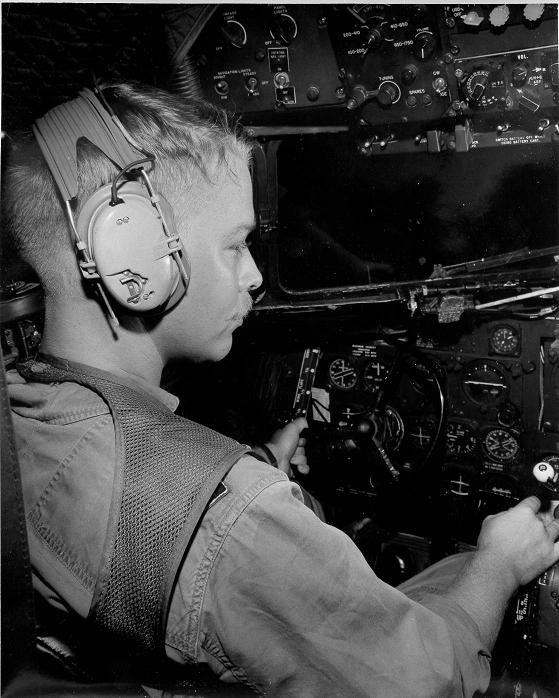 He's so young here (25). In all likelihood, the pilot and aircraft were "born" in the same year.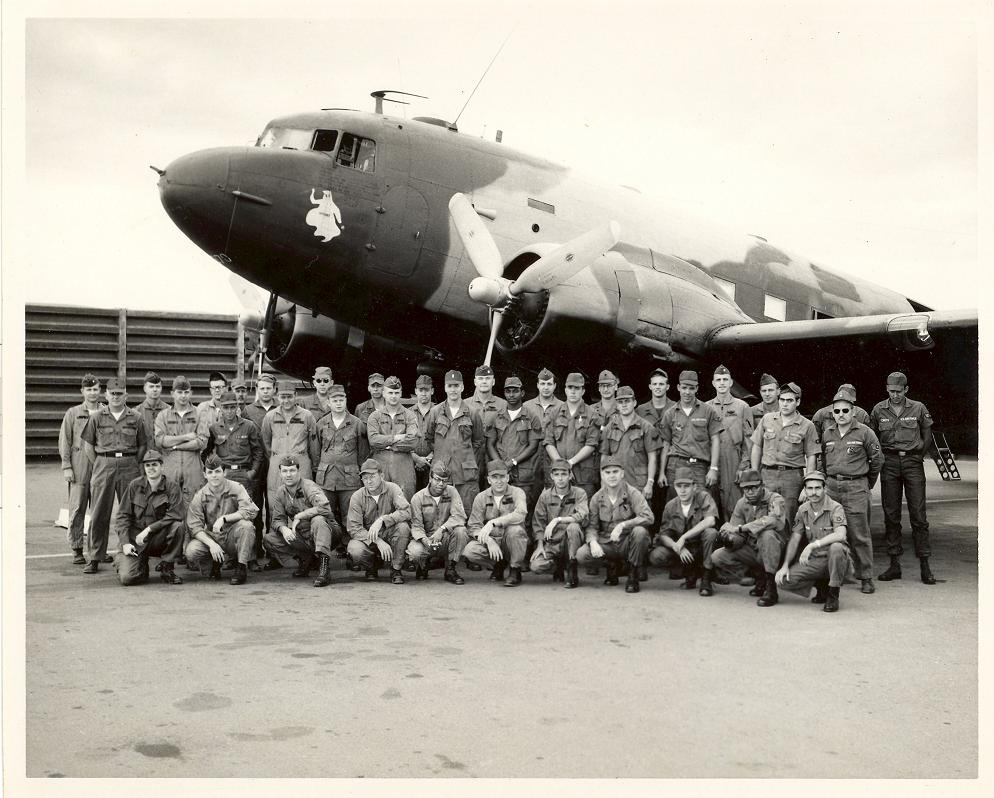 4th Special Operations Squadron B Flight Pleiku RVN
Front row L to R: Frank Ernst, nav; Pat Hanisee, nav; Tom Hoffman, pilot; TSgt. Jones, Flight Mech.; Charlie Carringgton, Nav.; Tsgt. McIntyre, Loadmaster; SSgt. Rice, Gunner; Ltc. Eaton, Flight Commander; A1C. Tucker, Maint.; Sgt. Anding, Flight Mech.; SSgt. Chambeau, Maint.
Standing L to R: Maj. Davis, Pilot; Maj. Illig, Nav.; Maj. Green, Pilot; Jerry Peterson, Nav.; SSgt. Conley, Gunner; TSgt. Bryant, Maint; TSgt. Knowles, Maint.; Sgt. Mays, Gunner; SSgt. Ragan, Flight Mech.; TSgt. McIntyre, Loadmaster; SSgt. Lewis, Gunner; SSgt. DePriest, Gunner; Bob Baldwin, Pilot; SSgt. Staberg, Loadmaster; Mike Smithson, Pilot; LC Hunt, Pilot; Sgt. Bell, Maint.; Jim Cross, Pilot; A1C Johns, Maint.; Maj. Sandfort, Nav.; A1C Raab, Maint.; Sgt. Carlson, Gun Maint.; Sgt. Jasper, Maint.; Maj. Carpenter, Pilot; TSgt. Doane, Flight Mech.; A1C Finley, Maint.; SSgt. Marshall, Flight Mechanic; unknown; Sgt. Casto, Maint.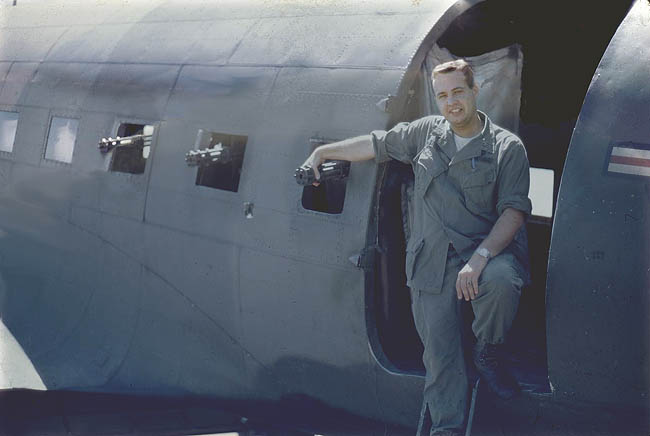 Lt. (Capt) James E Cross-(KIA) Decided instead of going home to SAC for a short time before getting out, volunteered for Raven FACs up in Laos. Shot down while checking out his replacement, April, 1970. The incident is documented in the book "The Ravens," by Christopher Robbins.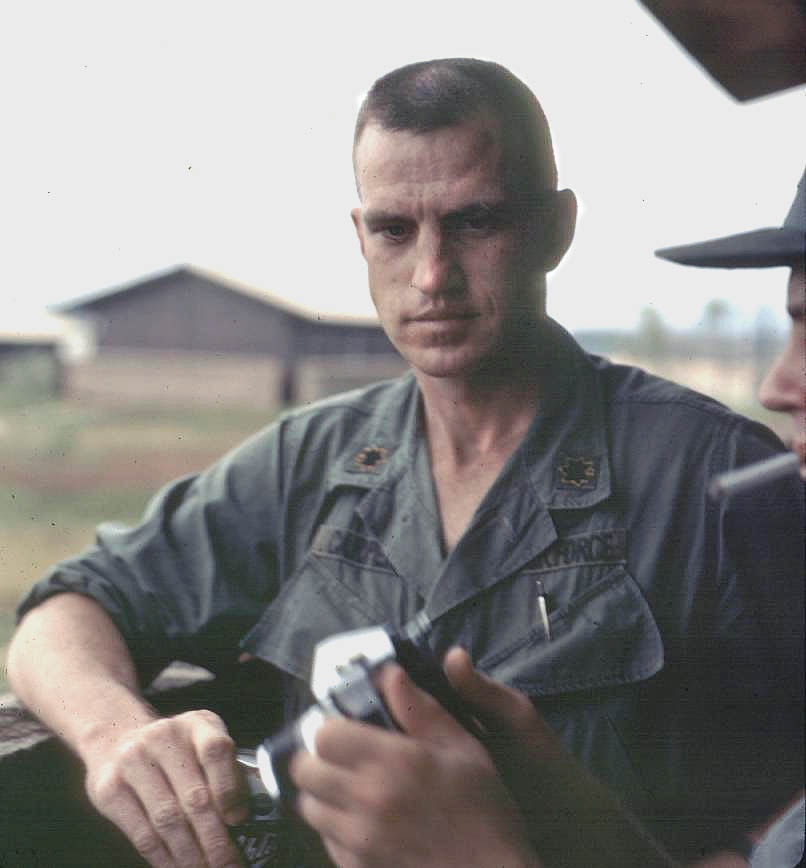 Maj. James Carpenter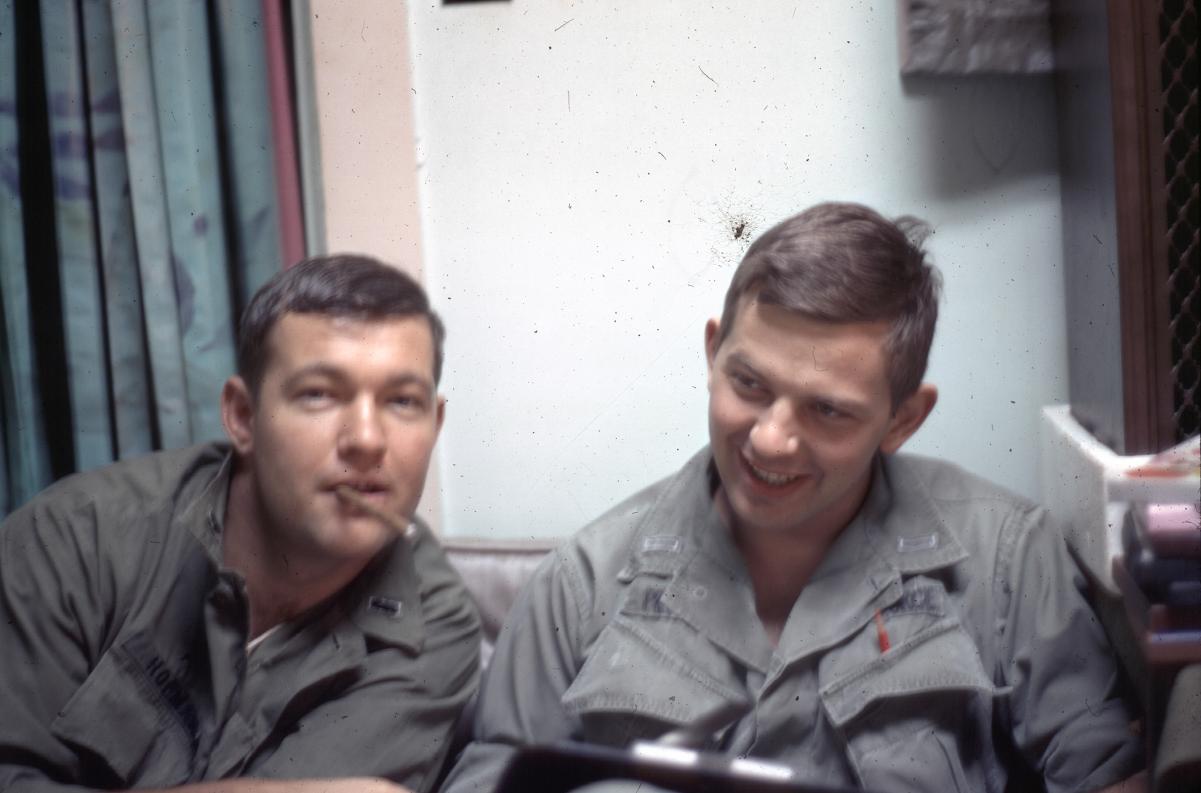 Lt. Hoffman(left), Lt. Gerald L. Peterson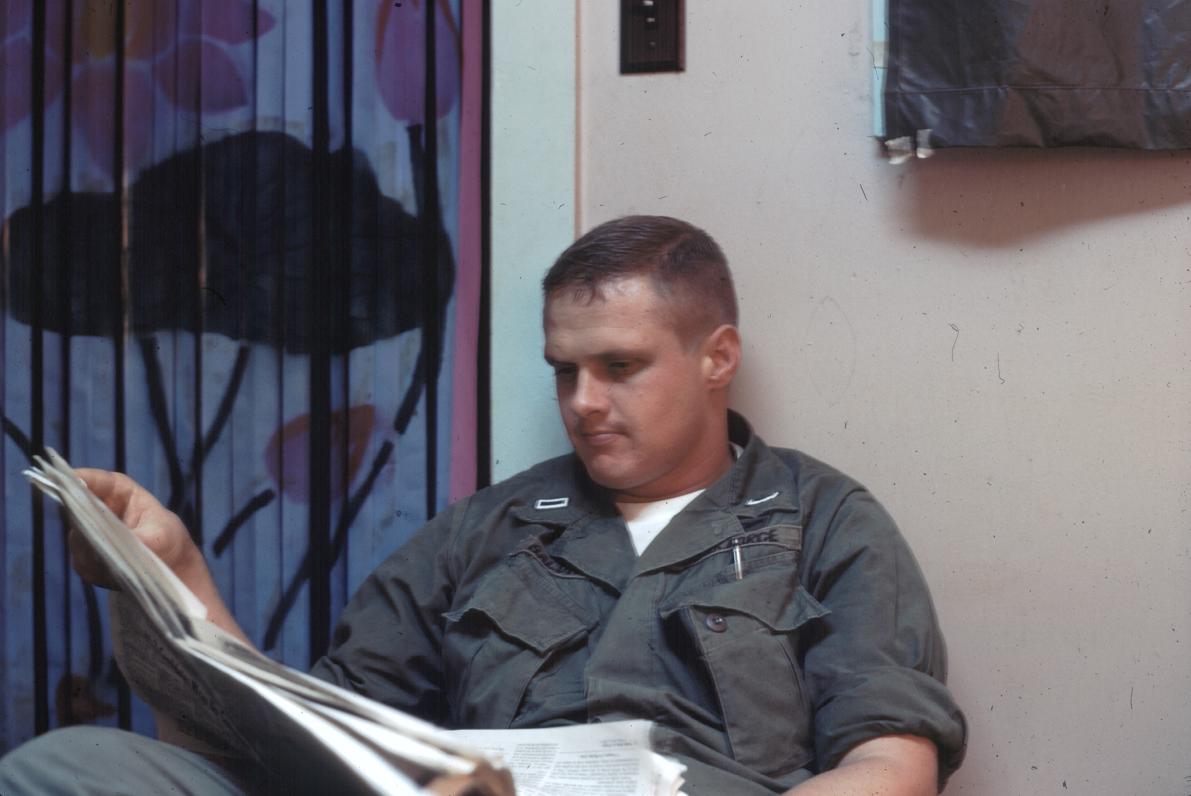 Lt. Robert Baldwin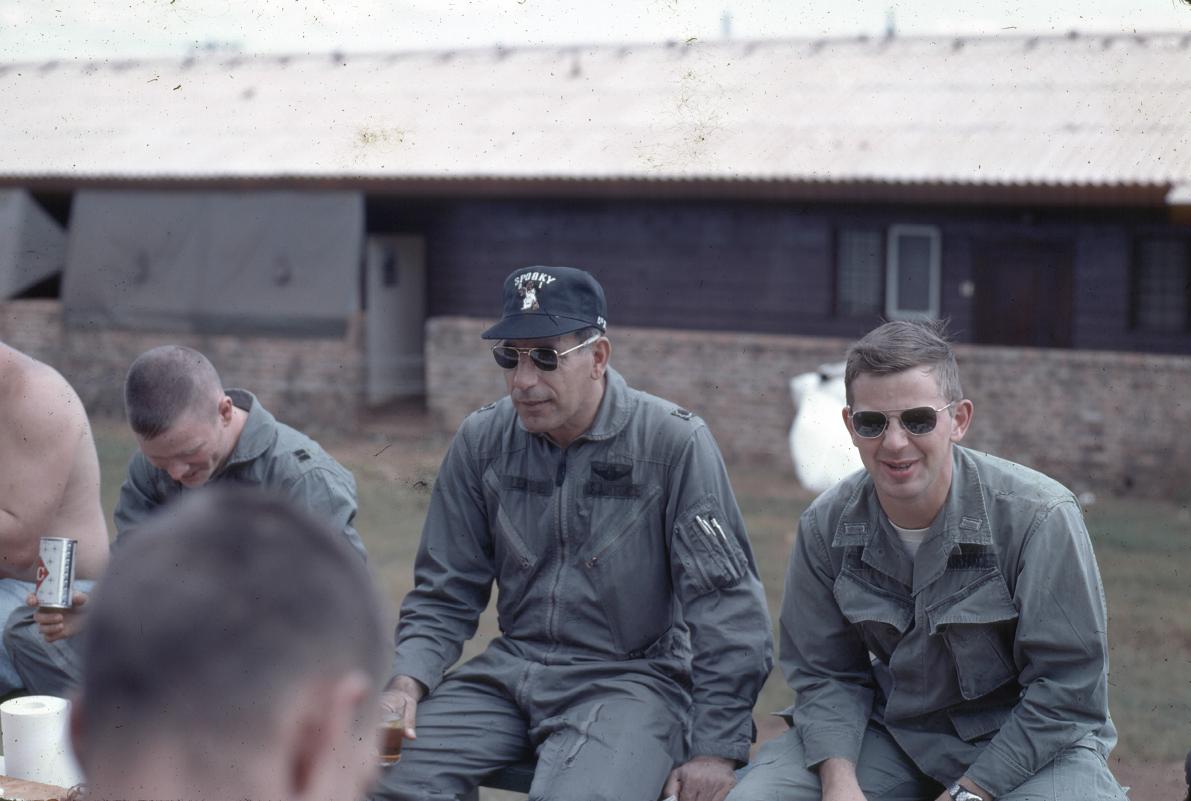 Middle with hat is Lt Col Joseph Lentine, Lt. Gerald L. Peterson(right)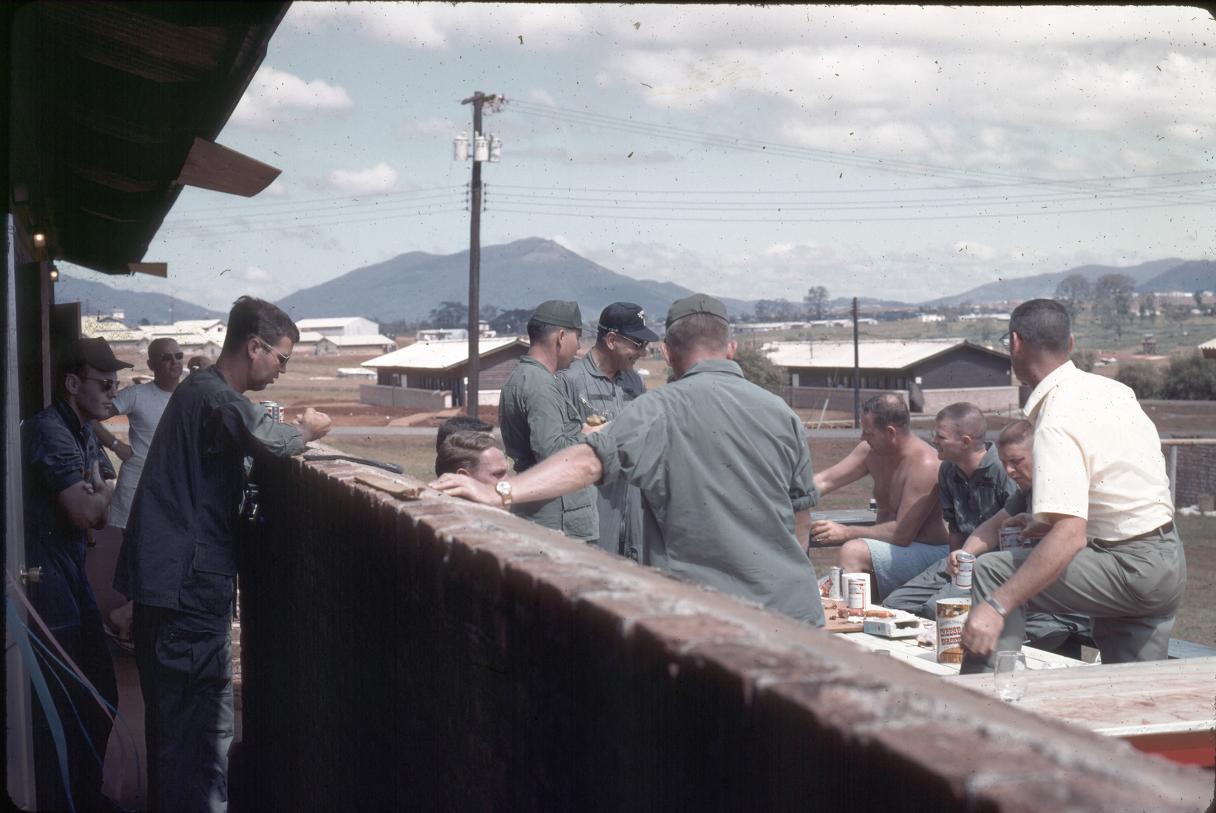 Middle with hat is Lt Col Joseph Lentine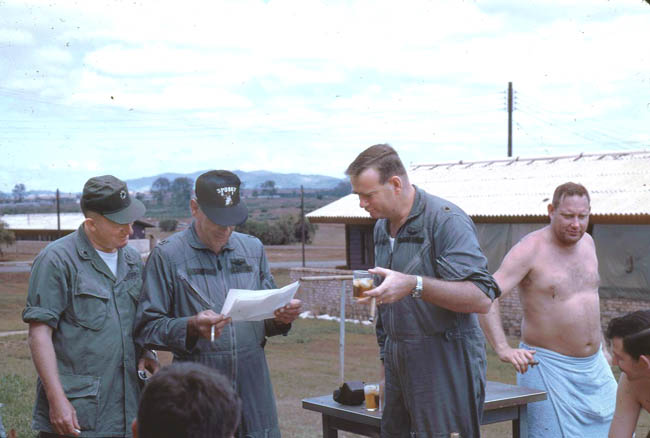 (Polson, Lentine, Rehm, Roten)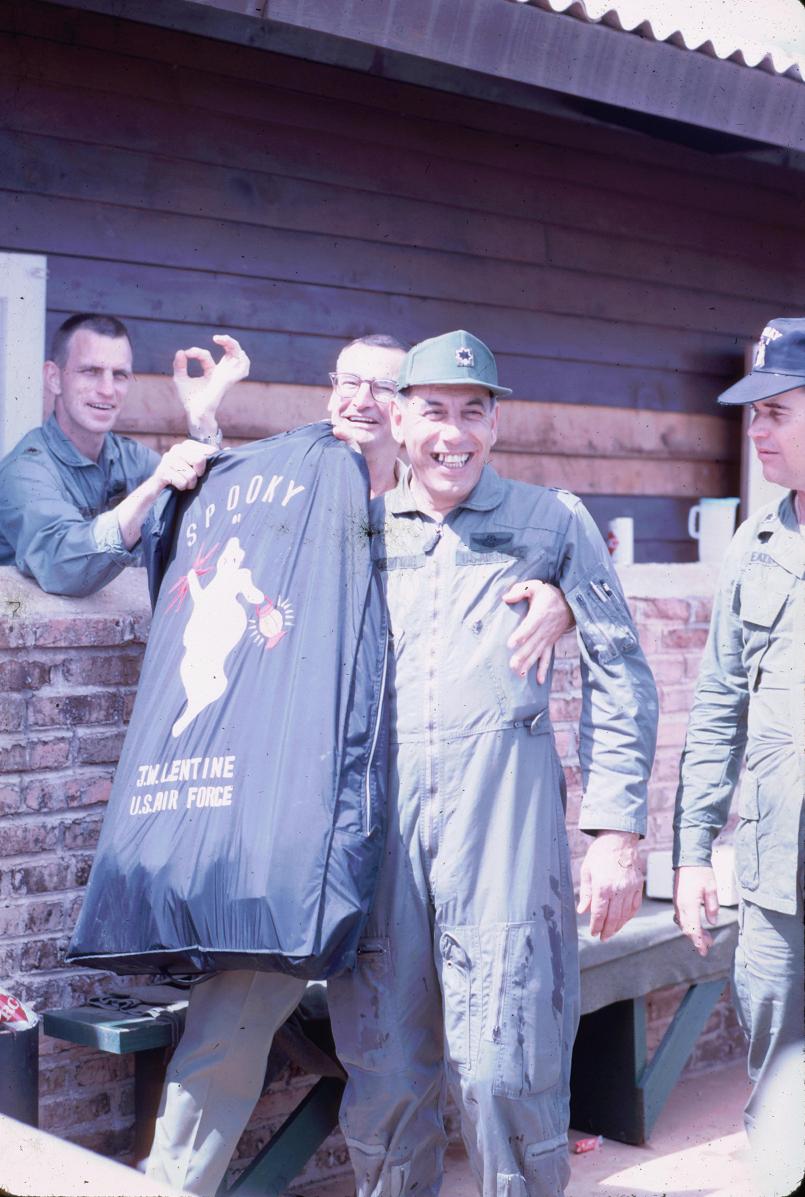 Maj Carpenter, Maj Stanford, LtCol Lentine, LtCol Eaton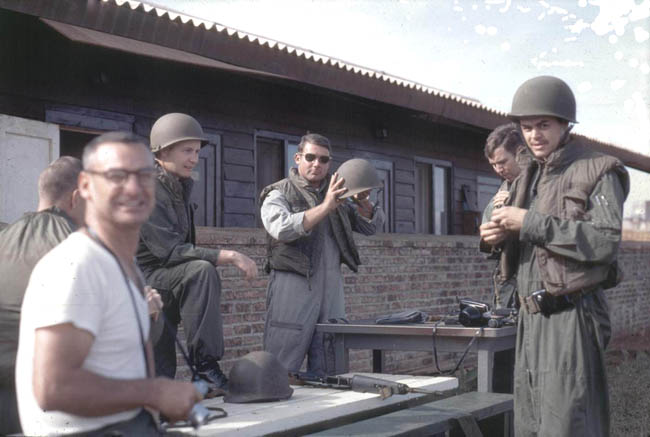 Probably Lt Balwin, Maj Stanford, UNK, Lt Rainer Soehnen (P), Lt Sproul, Lt Frank Ernst (navigator)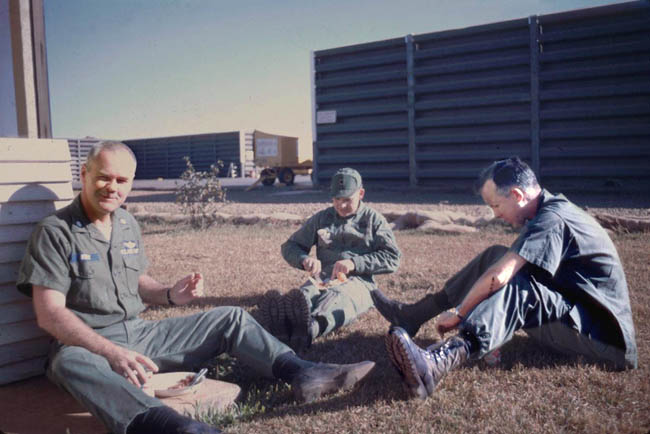 (left) Lt. Col James C. Hunt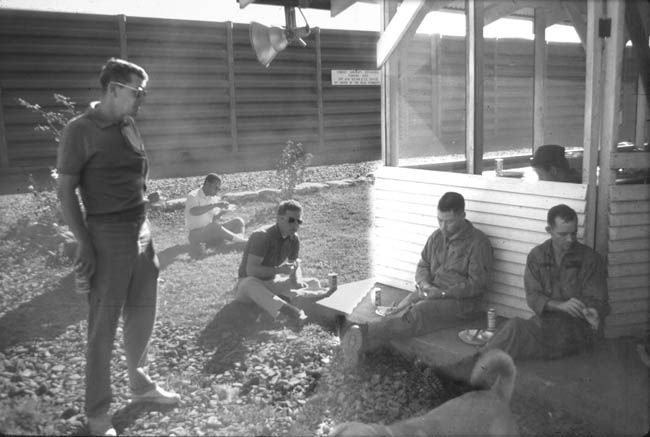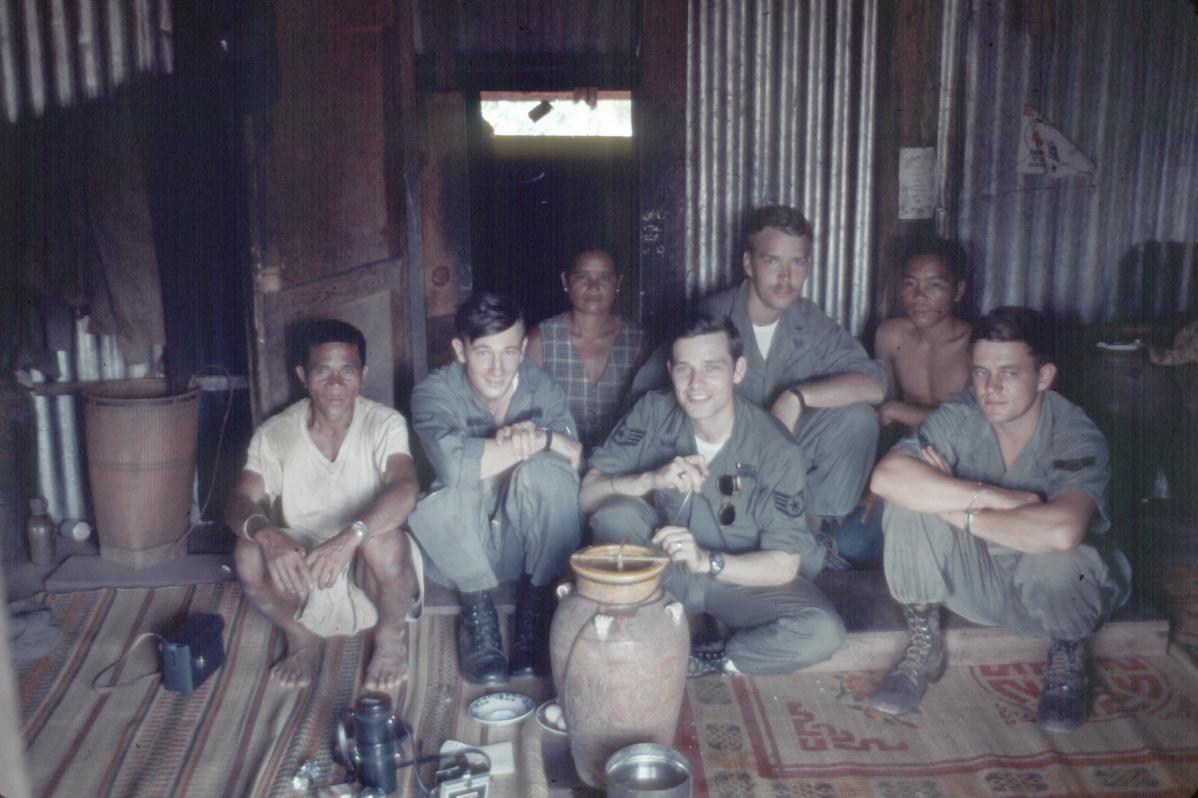 My father is the guy in the back with the mustache. James Cross may be the photographer here as he is in some other shots from the same trip but not in this group photo. I'm not sure what they are doing while visitng with these Montagnards, but I have photos of all of them sucking on the little tube coming out of that pot. I'm sure it's legal. (Update. Tom Hegre explains the the deal with the pot.) "I went up to the village one time. I'll tell you what we had to do... When you enter the building, every person had to sit around the rice wine pot and then you have to drink through a straw. The item setting on the pot is a measuring stick. Mounted in the center of the horizontal stick is a small wood block sets down in the wine about two inches. They pour some wine to bring up to the top of the pot. Then each person has to suck through the straw and drink the wine down to the bottom of the wood block. " Perhaps this photo documents the "rice wine festivities" mentioned on the history page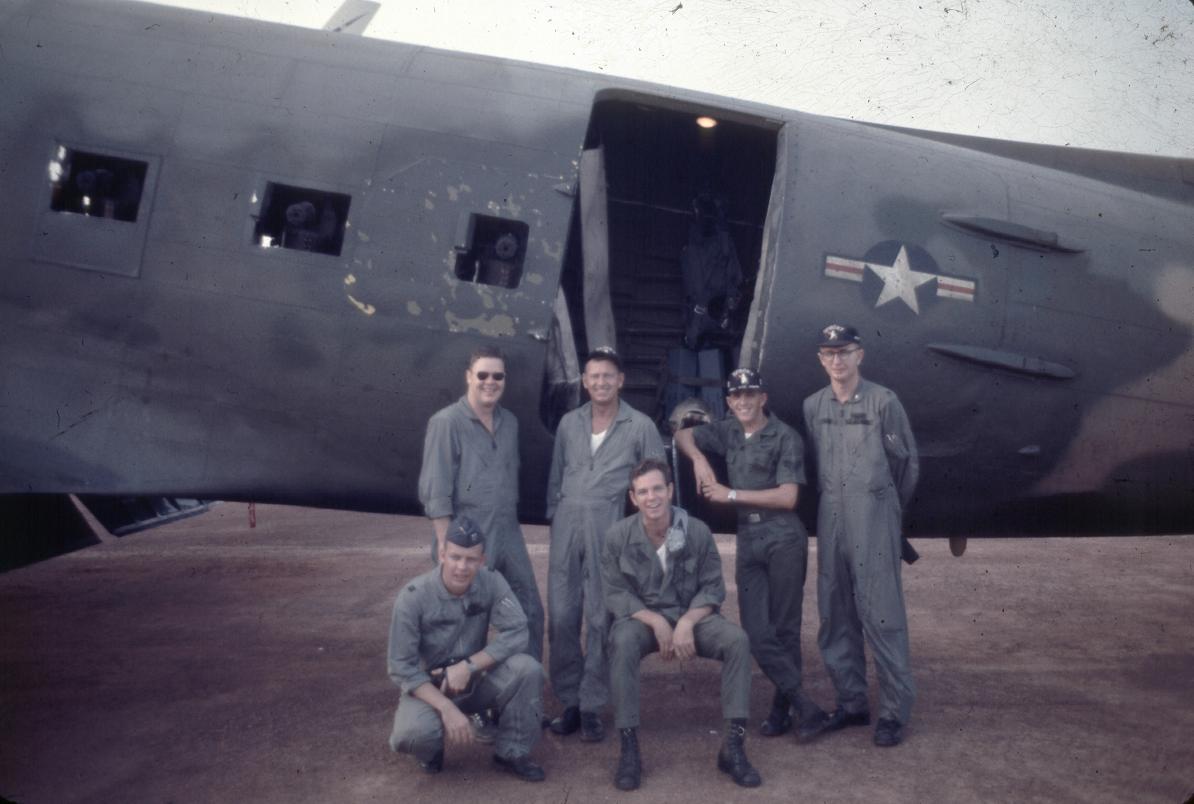 I think this photo and the one below are from Udorn RTAB in Thailand.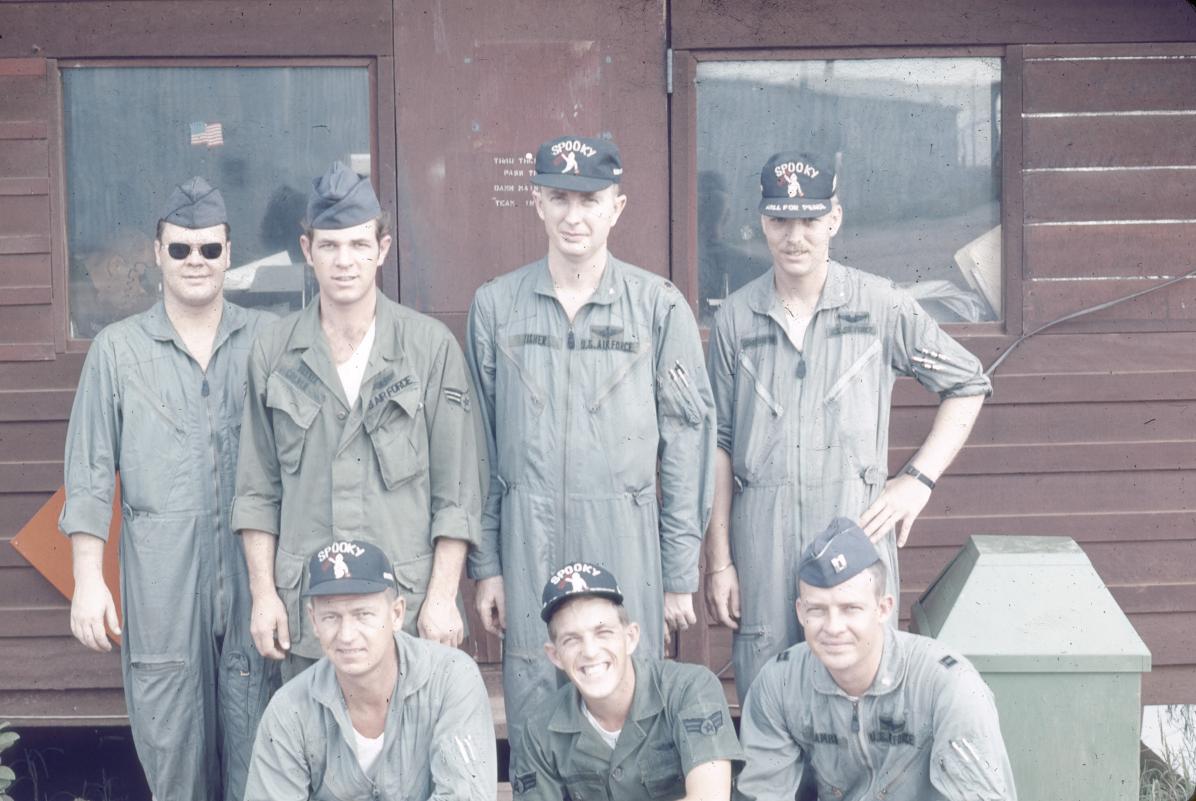 I believe this photo was taken while he was TDY at Udorn RTAB in May and June '69.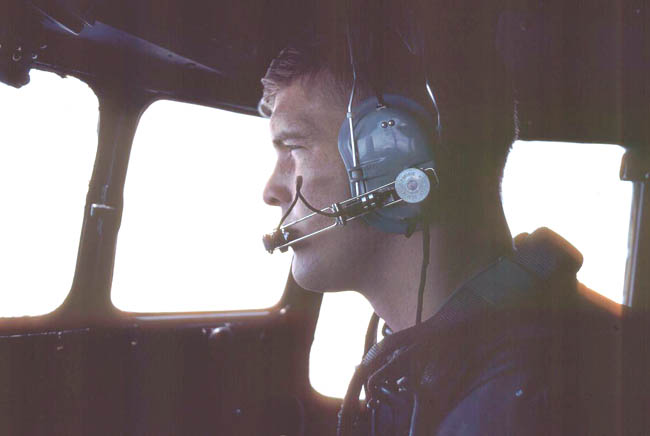 Ben Rathke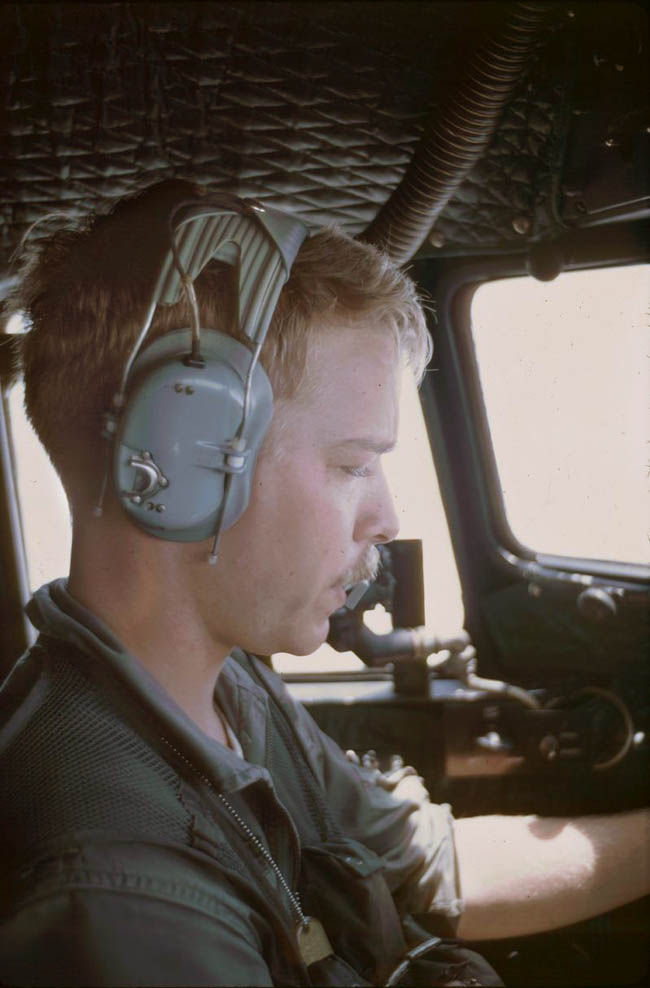 That would be my dad, Mike Smithson in the left seat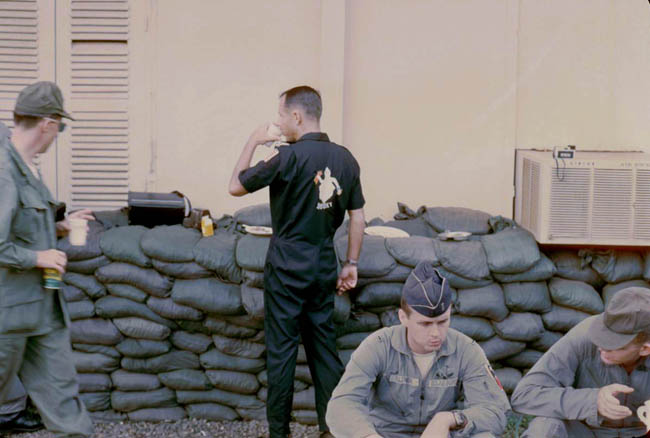 .All photos Copyright 2007 Chris Smithson
This site is the personal property of Chris Smithson. It is hosted locally by ConnectNC and is not part of, affiliated with, or even close to being an official site of the Town of Southern Pines.